Will Birmingham join the World Hockey Association?
June 6, 1974
Birmingham Americans owner
William R. Putnam
William R. Putnam, owner of the World Football League's Birmingham Americans, says he plans to bring big league professional hockey to Birmingham as early as 1976. "As soon as a contract is let (on the arena portion of the Civic Center) and work starts and there's a completion date set, I'll negotiate a lease."

Putnam plans to buy an existing World Hockey Association team and move it to Birmingham. He would not name the team. "There's a WHA team that you can buy for $2 million and move it. If we had the building, I know we could buy it right now."

The WHA just completed its second season and was co-founded by Gary Davidson, who also founded the World Football League late last year and the American Basketball Association in 1968.

The National Hockey League does not allow the moving of existing teams and an expansion franchise in the NHL would cost $6 million. Over the last few years, Putnam has been involved with the NHL's Atlanta Flames and the Philadelphia Flyers.

Putnam believes there is a strong hockey interest in Birmingham that could sustain a team. "I've been concentrating on football and I haven't had time to investigate anything else, but so many people have asked me that there must be interest. Hockey is a good spectator sport, maybe the best. But it's a terrible television sport."



October 1975




1975-76
World Hockey Association
xxx
xxx
xxx
xxx
xxx
xxx
Calgary Cowboys
Cincinnati Stingers
Cleveland Crusaders
Denver Spurs
Edmonton Oilers
Houston Aeros
Indianapolis Racers
Minnesota Fighting Saints
New England Whalers
Phoenix Roadrunners
Quebec Nordiques
San Diego Mariners
Toronto Toros
Winnipeg Jets




Epilogue


Birmingham did join the World Hockey Association. However, the franchise was not Putnam's.

In 1976 John F. Bassett moved his Toronto Toros franchise to the city and renamed them the Birmingham Bulls. The team would have some success on and off the ice.

The World Hockey Association folded in 1979 when the National Hockey League agreed to absorb four WHA teams.

The Bulls were not one of those teams, but they joined the Central Hockey League for two years before the team folded.

World Hockey Association puck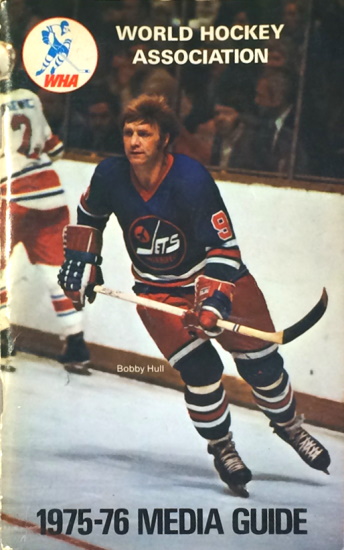 1975-76




World Hockey Association




Media Guide

Contact Gene Crowley
Last update: December 04, 2021