Will the IL's Richmond Braves move to Birmingham?
August 17, 1976
It is reported that Major League Baseball's Atlanta Braves are considering moving their AAA International League team from Richmond, Virginia to Birmingham.

Braves farm director Bill Lucas, assistant Paul Snyder, and Scout Dickie Martin were in Birmingham recently to look at Rickwood Field. Currently, no team is playing in Rickwood as the Birmingham Athletics recently left for Chattanooga because of an increase in the facility rental fee charged by the city.

"I think Rickwood could easily be upgraded into an adequate facility. A few years ago we went through a concentrated effort to bring our farm operations closer to Atlanta. From that standpoint, Birmingham is very appealing", Lucas said.

Dickie Martin is a longtime Braves scout headquartered in Birmingham and has campaigned for a move such as this for years. "I've worked hard to sell the Braves on Birmingham. I believe Birmingham will support Triple A. We need baseball in town."

The Braves are having lease problems with the city of Richmond after they determined they had one of the worst leases in the league.

Park Board superintendent Frank Wagner says they have been negotiating with Braves officials for the past few days. "Right now, we are in general agreement on terms. If the Braves are favorably impressed with the park and the city, then I think we'll get the team."

The city has a long association with AA baseball with the Birmingham Barons and Birmingham Athletics, but has never had a AAA level club. AAA baseball is a higher quality baseball and is one step below the major leagues.

The Braves have their eye on two or three other cities that have shown interest but believe the decision won't be long in coming. "We'd like to decide this thing as soon as possible so we can come in and rev up fan interest", Lucas said.
August 24, 1976
Atlanta Braves owner
Ted Turner
Wagner says he will travel to Atlanta to talk to the Braves. Board member Don Hawkins suggested the trip to Wagner. "It seems to me, that if we want something like this it's up to us to go after it", Hawkins said.

Wagner said he has had telephone conversations with Braves officials, but no proposals have been made. "I invited them to have someone here at this morning's (board) meeting, or to put a proposal in writing, but I haven't heard anything form them."

The only proposal the Park Board has concerning Rickwood and the Braves is a written proposal from local baseball fan Dr. Robert Day. Day proposes that he would rent Rickwood Field for $25,000 provided that the Braves would rent Rickwood from him for $15,000. This means Dr. Day is willing to underwrite baseball in Birmingham himself for $10,000.

Braves owner Ted Turner is considering the possibility of moving the AAA team to Atlanta and allowing them to play their games at Atlanta Stadium when the Braves are out of town.

August 29, 1976
When asked about a possible move for the Braves AAA club to Birmingham, International League president George Sisler said the league would not deny it. "The International League is not adverse to the Braves transferring their franchise from Richmond to Birmingham. The directors of the league have instructed me to go to Birmingham and inspect the facilities and report back to them. I will go as soon as a convenient time can be worked out where I can be in Birmingham along with the Atlanta people so I can give them my opinion on the spot."

Wagner has not finalized anything with Atlanta, "I'm waiting for Atlanta to contact me. I hope to go over there this week and find out where we stand. I have had several letters from other clubs expressing interest in moving franchises here in the meanwhile,"

September 13, 1976
Turner says they will probably keep their AAA franchise in Richmond. "It's not absolutely final, but it looks like we will probably go back to Richmond. I would personally have preferred to come to Birmingham, for server reasons."

Unfortunately, it seemed Richmond was more interested in keeping their team than Birmingham was in getting a team. "Richmond got in the (International League) playoffs, and when we went up there people came to us with tears in their eyes saying, 'don't' take our baseball team away.' We didn't find anybody in Birmingham who really wanted us to move the team over there. We got a lot of boos from the press in Richmond when we announced that we might move, but it was the people who touched me," Turner said.



April 1977




1977
International League
xx
xx
xx
xx
xx
xx
Charleston Charlies

Columbus Clippers
Pawtucket Red Sox
Richmond Braves
Rochester Red Wings
Syracuse Chiefs
Tidewater Tides
Toledo Mud Hens
Epilogue
The Braves returned to Richmond as expected and played in the International League until they were relocated to Gwinnett County, Georgia after the 2008 season.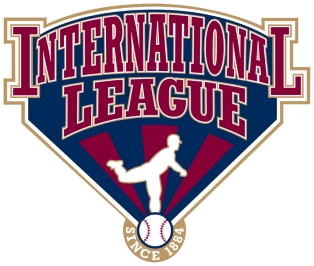 International League logo 1998-Present

Contact Gene Crowley
Last update: August 11, 2019