Will Birmingham join the National Football League?





July 10, 1978


John Bassett, owner of the World Hockey Association's Birmingham Bulls hockey team, announces that the group that owns the Bulls will change its name so that it can focus on securing a National Football League expansion team for Birmingham. Alabama Hockey, Inc., will now be known as Alabama Pro Sports, Inc.


Birmingham Bulls
owner John F. Bassett
Bassett and A. E. "Pee Wee" Burgess, a key investor in the World Football League's Birmingham Americans and Birmingham Vulcans, will pool their knowledge and vast resources to contact the NFL's commissioner Pete Rozelle. Bassett and Burgess worked together once before, when they teamed up to petition the NFL on behalf of Bassett's Memphis Southmen when the WFL folded in 1975.

"This is something Pee Wee and I have discussed since I came to Birmingham. We just finalized it this morning. I will divest myself of all interest in the Memphis movement. Of course it would be my wish that both Birmingham and Memphis would be accepted into the NFL. All the partners aren't aware of this, but I have discussed it with a number of them at different times. I'm sure this is what all of them will want to do. I would think that the first thing we have to do is set a course of action and make the NFL Owner's Council aware of a new bid and a new group," Bassett said.



July 11, 1978


NFL spokesman Don Weiss announces that the NFL would not be expanding any time soon.

Weiss is the administrative assistant to Rozelle. "At present time, the topic of expansion is not an active one. Birmingham has done a very good job of keeping the NFL member clubs and several of us in this office well informed of the developments there. But we have no timetable as far as possible expansion is concerned at the present time. At the time Seattle and Tampa Bay were admitted into the league, Birmingham was one of the seven cities we considered. And I'm sure careful consideration will again be given your city when we do expand again."



September 1978




1978-79
National Football League
xxx
xxx
xxx
xxx
xxx
xxx
Atlanta Falcons
Baltimore Colts
Buffalo Bills
Chicago Bears
Cincinnati Bengals
Cleveland Browns
Dallas Cowboys
Denver Broncos
Detroit Lions
Green Bay Packers
Houston Oilers
Kansas City Chiefs
Los Angeles Rams
Miami Dolphins
Minnesota Vikings
New England Patriots
New Orleans Saints
New York Giants
New York Jets
Oakland Raiders
Philadelphia Eagles
Pittsburgh Steelers

San Diego Chargers
San Francisco 49ers
Seattle Seahawks
St. Louis Cardinals
Tampa Bay Buccaneers
Washington Redskins



Epilogue


The National Football League did not expand again until 1995, when the Carolina Panthers and the Jacksonville Jaguars joined the league.

National Football League ball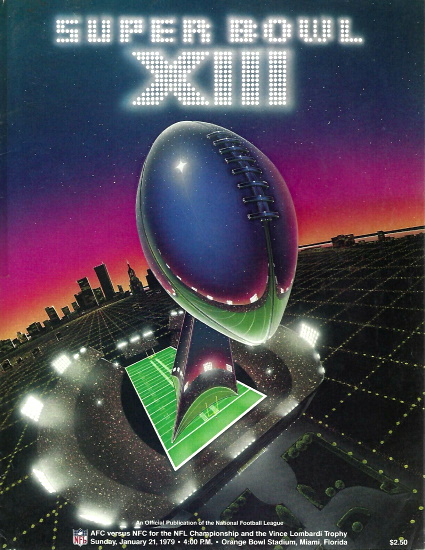 01/21/1979




Pittsburgh Steelers


vs
Dallas Cowboys
SUPER BOWL XIII

Contact Gene Crowley
Last update: August 04, 2021