Will Birmingham join the Canadian Football League?





November 12, 1992


Dr. Larry Lemak, a noted local orthopedic surgeon, announces he is interested in bringing a Canadian Football League team to Birmingham.


| | |
| --- | --- |
| | |
| | Dr. Larry Lemak |
| | |
The CFL is expected to field teams in the United States for the 1993 season, most likely in Sacramento and San Antonio. Birmingham is on a list of potential cities for future expansion.

"I've talked to them actively for the past three months. I was interested in getting information to judge if this is the proper time to get into the CFL, or wait and watch. I decided to see how it works, and wait until next season if it does work. I'm very interested," Lemak said.

Lemak has been one of Birmingham's biggest boosters for professional sports and has been involved with the World Hockey Association's Birmingham Bulls, the United States Football League's Birmingham Stallions and the World League of American Football's Birmingham Fire. The Fire was recently folded by the league. At the same time, the WLAF voted to suspend league operations for one year to focus more on the European aspect of the league. Lemak was a frontrunner to buy the team from the league before the decision was made to fold the team.

"I think the Canadian League is a good alternative for Birmingham. I'd like to move in this year, but I don't think the city is ready for it." Lemak said.

Lemak is currently head of the Chamber of Commerce's committee on professional sports.

"I'm going up for the Grey Cup this month and meet with them then. I'm going to sit down with commissioner Larry Smith and some of the principal figures in the league and really pursue it. It looks like it may be something worthwhile for us," Lemak said.



June 1993




1993
Canadian Football League
xxx
xxx
xxx
xxx
xxx
xxx
British Columbia Lions
Calgary Stampeders
Edmonton Eskimos

Hamilton Tiger-Cats
Ottawa Rough Riders
Sacramento Gold Miners
Saskatchewan Roughriders
Toronto Argonauts
Winnipeg Blue Bombers



Epilogue


The Canadian Football League did expand into the United States in 1993. Joining the league, and earning their place in CFL trivia books, was the Sacramento Gold Miners.

American franchises added in 1994 were the Baltimore Stallions, the Las Vegas Posse, and the Shreveport Pirates.

In 1995, the Birmingham Barracudas and the Memphis Mad Dogs were added, while Sacramento moved to San Antonio and became the Texans. The Las Vegas franchise folded.

In 1996, Baltimore moved to Montreal to become the Alouettes but due to financial hardships, the remaining American franchises folded, thus ending the CFL's expansion into the United States.

Canadian Football League ball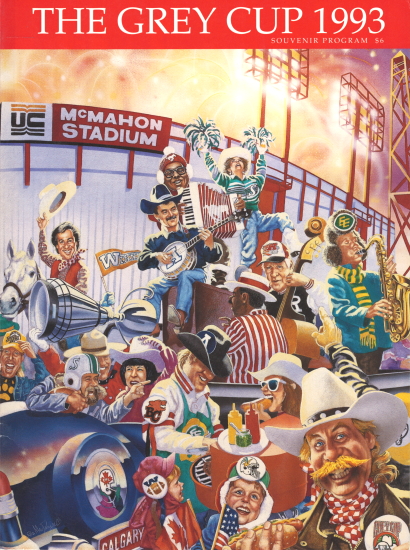 11/28/1993
Edmonton Eskimos
vs
Winnipeg Blue Bombers
GREY CUP

Contact Gene Crowley
Last update: August 03, 2021