Will Birmingham join the Federal Hockey League?

2017
Although it was not ever reported on at the time, Birmingham came very close to landing a team in the Federal Hockey League before their 2017-18 season.


| | |
| --- | --- |
| x | |
| | |
The FHL is a professional hockey league that began play in 2010-11 with six teams. Franchises are located in Midwestern and Northeastern states.

In 2017, the FHL wanted to expand into the South and were looking at a number of cities as possibilities. Birmingham was among those cities.

The league was in negotiations with the city of Pelham to rent the Pelham Civic Complex Ice Arena, which was about to begin a major renovation. This renovation was taking place to lure a team to the city.

The FHL's lease had been agreed to in principal; a two year lease with an additional two year option.

The league had a president/general manager ready to go by March. A head coach had been hired as well. Offices in the PCC were being readied.

However, just as the FHL was on the verge of finalizing the lease, the city instead awarded a lease to Art Clarkson's new Southern Professional Hockey League team, the Birmingham Bulls.

In the months before, the SPHL was also trying to place a franchise in Birmingham, but were getting nowhere with officials at the Birmingham Jefferson Civic Complex to rent the arena. Reportedly, Clarkson reached out to Pelham officials at the last minute and secured a lease at the FHL's expense.


October 2017
2017-18
Federal Hockey League
xx
xx
xx
xx
xx
xx
Carolina Thunderbirds
Cornwall Nationals
Danville Dashers

North Shore Knights
Port Huron Prowlers
Watertown Wolves
Epilogue
The FHL had just about everything in place. The team would be named the Alabama Bullz and team colors would be navy and yellow. A website and a season ticket plan were ready to go.
If they had been successful in securing the Birmingham market, the FHL would then go after Columbus, Georgia and Mississippi, possibly in Jackson and Tupelo.
Before the season started, the FHL did expand into the South with a team in Winston-Salem, North Carolina.

Clarkson's Birmingham Bulls began Southern Professional Hockey League play in 2018.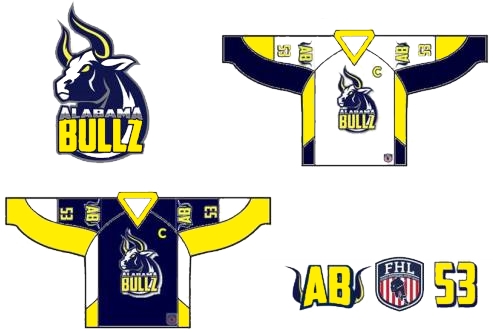 Alabama Bullz logo, home & road jerseys, and secondary logo
Federal Hockey League secondary logo
Contact Gene Crowley
Last update: September 27, 2019