Will the NBA's Buffalo Braves move to Birmingham?





April 26, 1978


Ed Meyerson announces that the Buffalo Braves of the National Basketball Association plan to move and Birmingham is a city being considered as their new home. Currently, Dallas is the only other city in competition for the team.

Meyerson, a local attorney representing Birmingham mayor David Vann, and other local leaders met with Norm Sonju, president and general manager of the Braves. "They're pretty serious about Birmingham."

John Y. Brown, the Braves owner, wants to relocate the team due to sagging attendance. The Braves have played in Buffalo's Memorial Auditorium since their inception in 1970. A clause in their agreement would allow the Braves to legally break their contract if season tickets sales fall below 4,500. Last year, the Braves sold only 2,200 season tickets. Brown contends the team must sell 8,000 season tickets to break even. Buffalo averaged 6,000 fans last season and had the second worst record in the NBA.

Dallas is building an arena, but it won't be ready for two years. If the Braves moved there, they'd have to erect temporary bleachers in an exhibition hall. Meyerson went on to say that the Braves originally were considering six or seven cities and Birmingham was not one of them. He asked mayor Vann if the city would back him in an effort to bring an NBA team to Birmingham and the mayor agreed.

Meyerson contacted Brown, and Brown sent Sonju to visit the city. Meyerson says Brown isn't interested in finding local investors for the team. Earlier this week, Brown turned down an offer from an Toronto attorney to sell the team.



May 8, 1978


The Braves exercise their option to break their contract with Memorial Auditorium. Sonju announces that he is assessing potential relocation sites that include Dallas, Louisville, Hollywood (FL), and Birmingham. "There is no city that looms as a city the Buffalo Braves might lean to. John is deathly afraid of Dallas as a market. He's also afraid of Louisville. He's from there, but my analysis rated it very poorly," Sonju said. He had also recommended the owners forget the Florida site because of arena access problems and other factors. He also noted that he had not yet made a study of Birmingham. Sonju said the owners would have to make a decision before the next Board of Governor's meeting to be held the middle of June in San Diego. He said that Birmingham had made the best ticket sales offer, a guarantee of 8,000 season tickets, but that the television market would be the prime consideration. "With that, you're now looking at a Toronto," Sonju said.



May 10, 1978


Officials with the Buffalo Braves arrive in Birmingham to meet with civic leaders and take a look at the city. Meyerson said, "This is it. If we can convince them on this trip, I think we've got it. They're coming here from Dallas, and Dallas had laid out the red carpet for them."

An Associated Press story quoted Sonju as stating Birmingham had guaranteed 8,000 season tickets, but Meyerson said that was incorrect, "The only guarantee has been 100% support from the Chamber of Commerce." Brown stated that Birmingham's assets were the 17,000 seat Civic Center Coliseum, aggressive leadership and the potential to be another Portland, where their NBA team is their focus. However, Birmingham is a small television market. While the Los Angeles Lakers made $1.7 million off television last year, Birmingham would have only made $80,000. Brown indicated he would make a decision within three weeks.



May 31, 1978


Sonju announces the Braves will have a new name and a new home for the upcoming season. The club would like to become the Dallas Express if the NBA's Board of Governors approve the move. Sonju said, "I've taken a hard, hard look at this question. With the numbers, the growth projections and civic enthusiasm, it looks to me like that's the decision." Addressing Birmingham's bid for the team Sonju said, "Even if Birmingham doesn't get a franchise this time around, their civic leaders might make an impression. I could do nothing but commend in a positive way their enthusiasm."



June 22, 1978


Brown announces that San Diego and Minneapolis are the two finalists. Brown said he was bowled over by the interest demonstrated in San Diego during his visit there last week. Brown said, "I'm sitting in the governor's office and (arena manager) Phil Quinn walked in and said they wanted to get in the running. I said, 'There's nothing you can do, I've got more than I can say Grace over right now.' But they wanted to take the chance." Brown, who hates bad weather, insists he hasn't made the decision already. "Minneapolis has the most community-minded spirit of any place we've visited," Brown said.



June 29, 1978


Brown announces that he now wishes to swap franchises with Irving Levin, owner of the Boston Celtics, pending approval by the NBA's Board of Governors. If the swap is approved, Brown states that he will move to San Diego. The city has been without an NBA team since 1971, when the Houston Rockets moved after playing four seasons in San Diego. "We've made a very fair agreement with the Sports Arena in San Diego. That city is growing by leaps and bounds and the enthusiasm is just tremendous."

Brown also expressed the desire to become the first owner to win championships in two basketball leagues. He and his former wife, Ellie, ran the American Basketball Association's champion Kentucky Colonels.



October 1978




1978-79
National Basketball Association
xxx
xxx
xxx
xxx
xxx
xxx
Atlanta Hawks
Boston Celtics
Chicago Bulls
Cleveland Cavaliers
Denver Nuggets
Detroit Pistons
Golden State Warriors
Houston Rockets
Indiana Pacers
Kansas City Kings
Los Angeles Lakers
Milwaukee Bucks
New Jersey Nets
New Orleans Jazz
New York Knicks
Philadelphia 76ers
Phoenix Suns
Portland Trailblazers
San Antonio Spurs
San Diego Clippers
Seattle Supersonics

Washington Bullets



Epilogue


Not long after, the National Basketball Association's Board of Governors overwhelmingly approved the Buffalo and Boston franchise swap as well as Brown's idea of moving his team to San Diego.

In a related vote, the Board also voted to shift the new San Diego franchise to the Pacific Division while moving the current NBA champion, Washington, from the Central Division to the Atlantic Division.

The San Diego Clippers played in the National Basketball Association until 1984, when they moved to a few hours North to become the Los Angeles Clippers.

National Basketball Association ball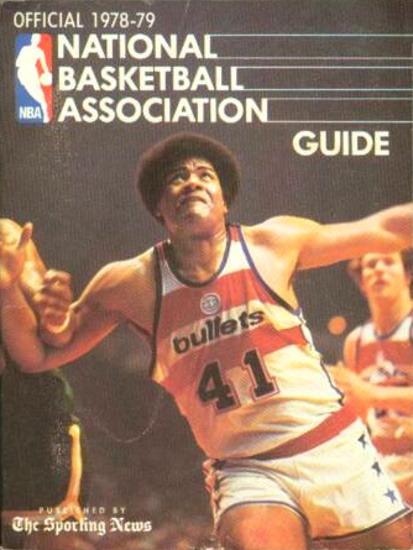 1978-79
National Basketball Association
Media Guide
| | | |
| --- | --- | --- |
| | | |
| San Diego Clippers logo 1982-83 to 1983-84 | Los Angeles Clippers logo 1984-85 to 2009-10 | Los Angeles Clippers logo 2010-11 to 2014-15 |
| | | |
| | | |
| | Los Angeles Clippers logo 2015-16 to present | |
Contact Gene Crowley
Last update: August 21, 2021