Will Birmingham join the American Soccer League?





January 7, 1981


Richard Melvin, director of franchise development for the American Soccer League, spends the day in Birmingham meeting with Chamber of Commerce officials and touring the city. Melvin is also the owner of the ASL's Carolina Lightnin', one of 10 teams currently playing in the outdoor league.

"We're very much interested in locating a franchise here. There seems to be a tremendous amount of interest in Birmingham to bring professional soccer in," Melvin said.

When asked about the failed Super Soccer League, which the Birmingham Bandits were a member of in 1978, Melvin said, "I remember the league, and I remember its problems. We're not that kind of operation. We've been around a few years. The league was incorporated in 1923." The American Soccer League has the distinction of being the longest-running professional sports league in U.S. history.



May 1981




1981
American Soccer League
xxx
xxx
xxx
xxx
xxx
xxx
Carolina Lightnin'

Cleveland Cobras
Detroit Express
New England Sharks
New York Eagles
New York United
Pennsylvania Stoners
Rochester Flash



Epilogue


Since its beginning, the American Soccer League concentrated on the New England/New York/New Jersey/Philadelphia area, but in the early 1970's it expanded into the Midwest.

In the late 1970's, during the boom years of the North American Soccer League, it opened a division along the West coast. This ambitious plan proved too expensive for the league, and franchises dwindled until their final season in 1983.

Before their last season, the ASL was planning to move indoors, but the league disbanded before it could make the move.

While the league may have folded, the Carolina, Jacksonville, Dallas, and Oklahoma City franchises joined the newly formed United Soccer League, which played until 1985.

Soccer finally made it to the Magic City, however. In May 2017 the United Soccer League announced they would place a team in Birmingham in 2019, and the Birmingham Legion has remained active in the USL's Championship league.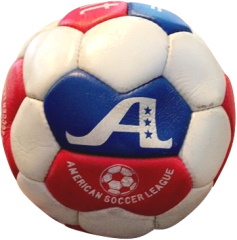 American Soccer League ball

Contact Gene Crowley
Last update: March 20, 2022