Photographs
1981 Birmingham Barons

First row (L-R): Barbaro Garbey, Vern Followell, Glenn Wilson, Bruce Robbins,
Bob Nandin, Darrell Woodard, John Lackey and Ron Mathis.
Second row: Roy Majtyka (Manager), Howard Johnson, Stine Poole, Augie Ruiz,
Stan Younger, Jeff Kenaga, Mike Laga, Paul Josephson and Bill Armstrong (Trainer).
Third row: Jack Smith, Dwight Lowry, Dave Steffen, Manny Seoane, Frank Hunsaker,
Mark Dacko and Mike Beecroft.
1994 Birmingham Barons

First row (L-R): Sam Hairston (Coach), Glenn DiSarcina, Joey Vierra, Ken Coleman, Chris Snopek,
Mike Robertson, Kerry Valrie, Mike Barnett (Coach), Chris Tremie and Troy Fryman.
Second row: Cory Sifford (Clubhouse Manager), Steve Davis (Trainer), Michael Jordan,
Barry Johnson, Doug Brady, Randy Hood, Rogelio, Nunez, Kevin Coughlin, Kirk Champion (Coach)
and Terry Francona (Manager).
Third row: Scott Tedder, Luis Andujar, Mike Heathcott, Brian Givens, Steve Olsen, Steve Gajowski,
Matt Karchner, Al Levine and Atlee Hammaker.
2007 Birmingham Barons

First row (L-R): Richard Dotson (Coach), Sean Smith, Chris Getz, Michael Myers,
Robert Valido, Rafael Santana (Manager), Fernando Hernandez,
Jeremy West, Jeremy Frost and Chris Kelly.
Second row: Adam Tischler (Coach), Joe Geck (Trainer), Oneli Perez, Donny Lucy,
Jack Egbert, Jason Bourgeois, Tim Bittner, Cory Aldridge, Ricardo Nanita,
Richie Hebner (Coach) and Chris Maxwell (Clubhouse Manager).
Third row: Gio Gonzalez, Eduardo Sierra, Dewon Day, Kris Honel, Adam Russell,
Wes Whisler, Thomas Collaro and Ryan Wing.
Michael Jordan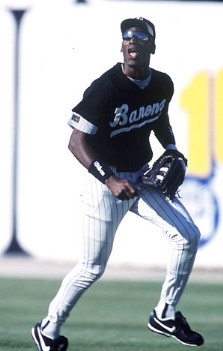 Michael Jordan
Frank Thomas (opponent unknown)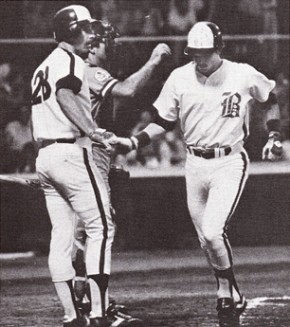 First baseman Mike Laga and third baseman
Howard Johnson (opponent unknown)
Players unknown (opponent unknown)
Frank Thomas (opponent unknown)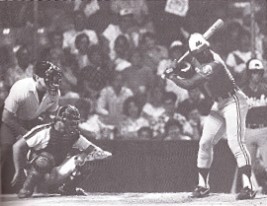 The Barons against Bo Jackson (Memphis Chicks)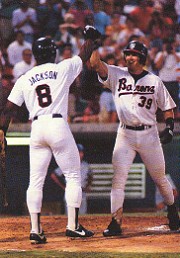 Players unknown (opponent unknown)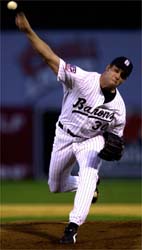 Player unknown (opponent unknown)
Derek Mitchell (vs West Tenn Diamond Jaxx)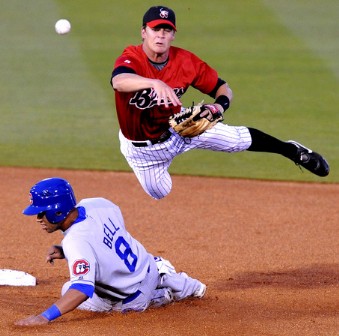 Shortstop Gordon Beckham (vs Chattanooga Lookouts)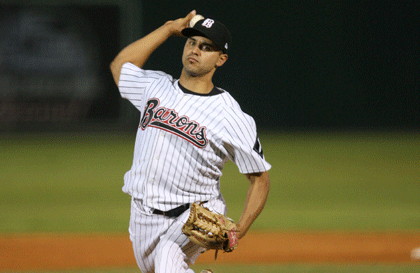 Pitcher Carlos Torres (vs Jacksonville Suns)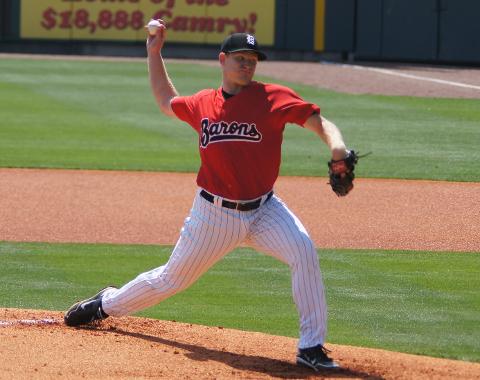 Pitcher Jose Quintana (vs opponent unknown)